Jackbox Party Pack 9
A while back at Gamescom we got to try out the game together with two people from the studio behind the party games and finally we got to play it Jackbox Party Pack 9 To do the other games as well. Read our review here to see if the new games in this ninth collection of party games are fun enough to pick up or not. We first briefly discuss the five games individually.
Jackbox Games' idea for a new collection is often to create a new version of one or two well-known games and then supplement the rest with new games. The collection begins with a sequel to an old favorite, viz Fibbage 4. In this game, you are given a proposition and must enter a believable lie and hope others vote for you while you guess the right answer. The new thing about this fourth edition, besides new propositions of course, is that it includes a video section where you are shown a very old clip of a movie or commercial being paused to ask a strange question. Also at the end, you have to come up with a lie that would fit for two statements and get extra points if a player chooses your answer for both statements. Fibbage was already entertaining and this fourth version is an improvement on the previous versions.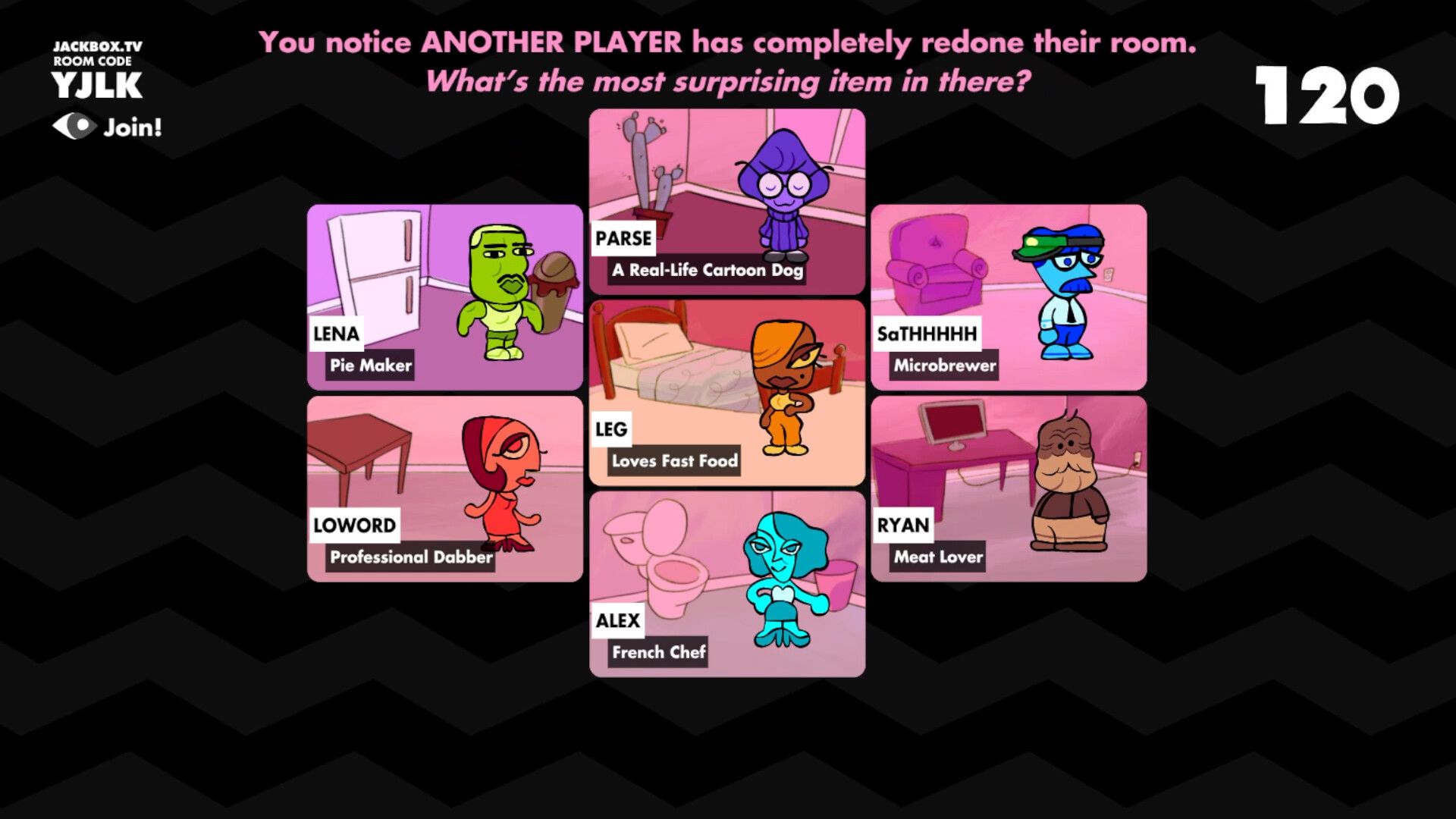 Roomerang is the second game in Jackbox Party Pack 9. Players here are part of a 'reality television series' Here the focus is mainly on role-playing games and making up funny answers based on your character. You are given a character trait to choose and asked to act accordingly, or not at all. Then players have to respond to each other and vote on the funniest answer for safety or just the bad answer for elimination. Should a player beëlimited, turns a 'new' character back – same player with a mustache, hat or different color shirt and a different vowel in the name, which can be hilarious. This game is very humorous, provided the players have some empathy for their character, otherwise it misses the mark a bit, especially since points are awarded on favor factor. So depending on the players, a must or don't, although the gameplay itself is very lighthearted.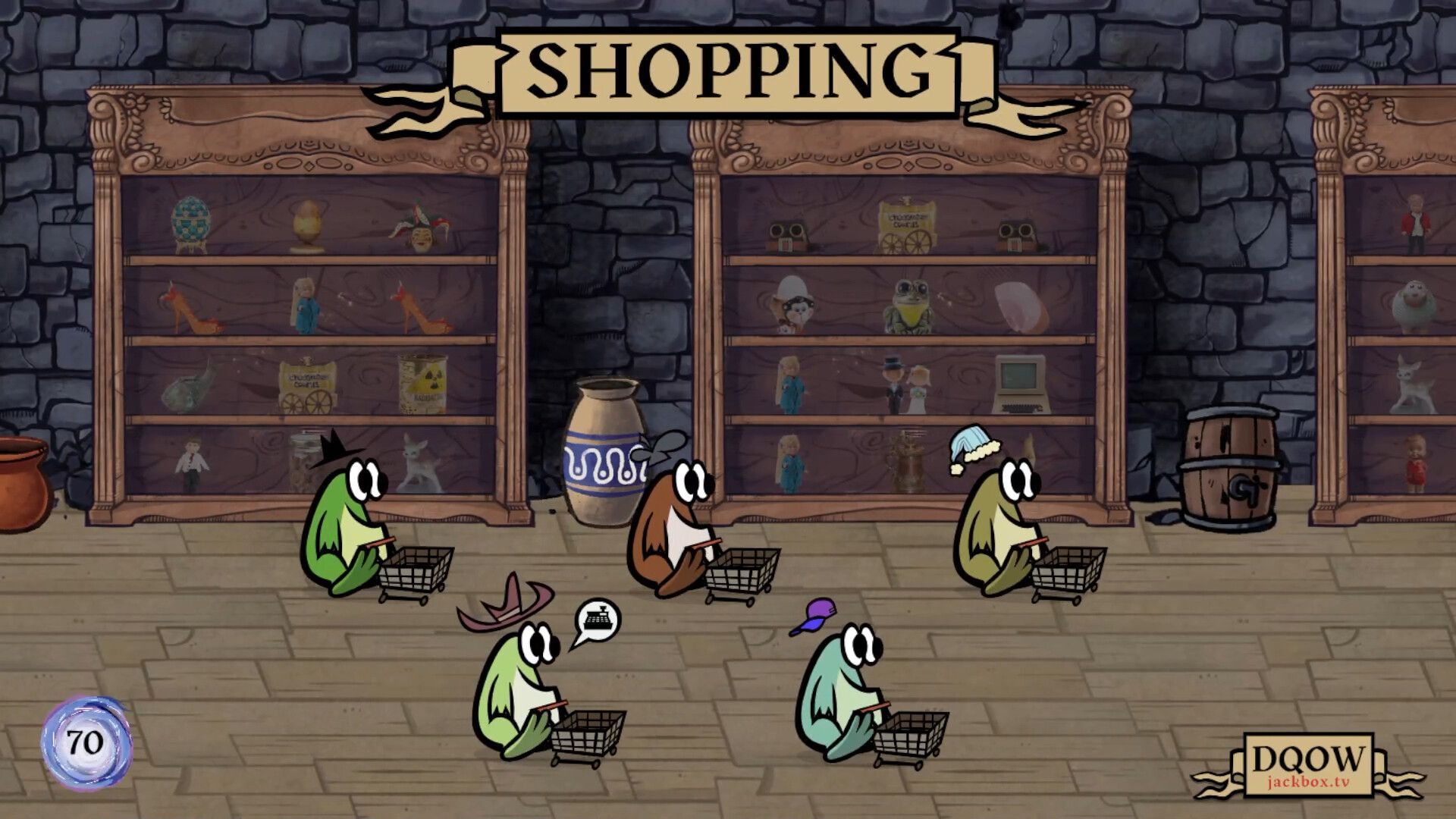 Everyone has too much stuff and in Junktopia go try to sell your junk. You get to go shopping for strange and crazy items and then describe two features of them. Think a collection of doll arms, a muscular garden gnome, a gold toilet, a pair of scruffy slippers or other goofy stuff. During a presentation, each player tries to sell his/her item in the hope that many players want it, then players have to rank the items because that's how players get their points. We found this very funny, although it is fairly decisive what item you buy/get whether you already have an advantage or not and how creative you make something out of it. For example, a barrel of chemical waste was in high demand because it was marketed as an anti-cleaner product. This one was already more likely to win than a ceramic fish from Atlantis or a gecko for more confidence. You can have the game presented for you, but we found it all the more fun to do it ourselves.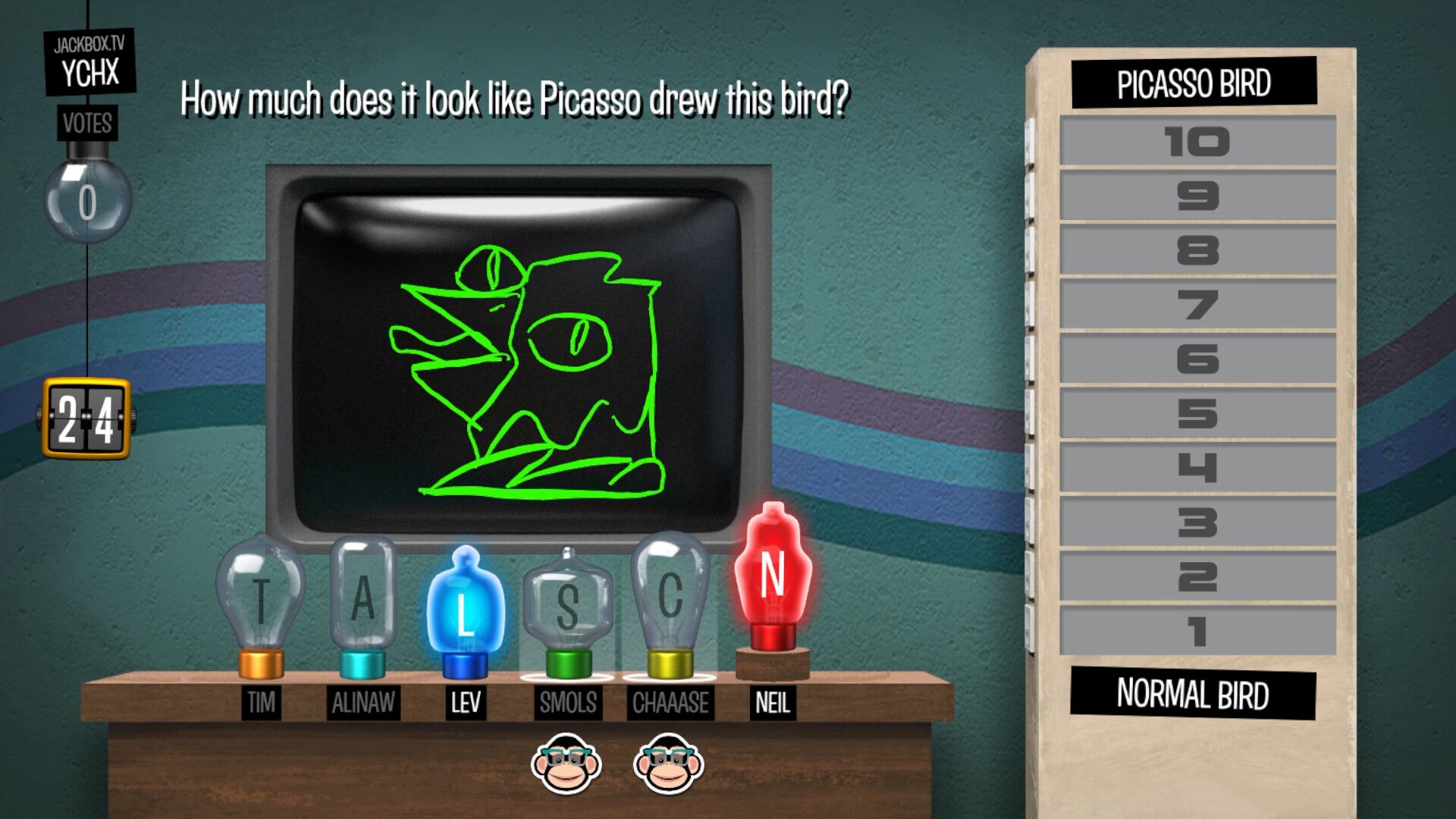 The game we could already do at Gamescom was Nonsensory, the fourth game of Jackbox Party Pack 9. Here you get two extremes of a scale and you have to write or draw something that falls between them. What would you draw if you had to draw a three or eight on toy safety? Afterwards there is often a brief light-hearted discussion between the players as to why a knife should be an eight instead of a ten. Last, players have to make hybrid drawings. For example, can you draw a six on a scale from bird to airplane? Next, other players must try to guess where on this scale your answer would sit. The closer you are to the answer, the more points you earn with possibly the possibility for double points with risk if you deviate too much. The humor is mainly in discussing whether or not something is on the scale or looking at other players' drawings. Very funny, but also sometimes frustrating when it is enormously difficult to get an average grade because it is difficult to draw that.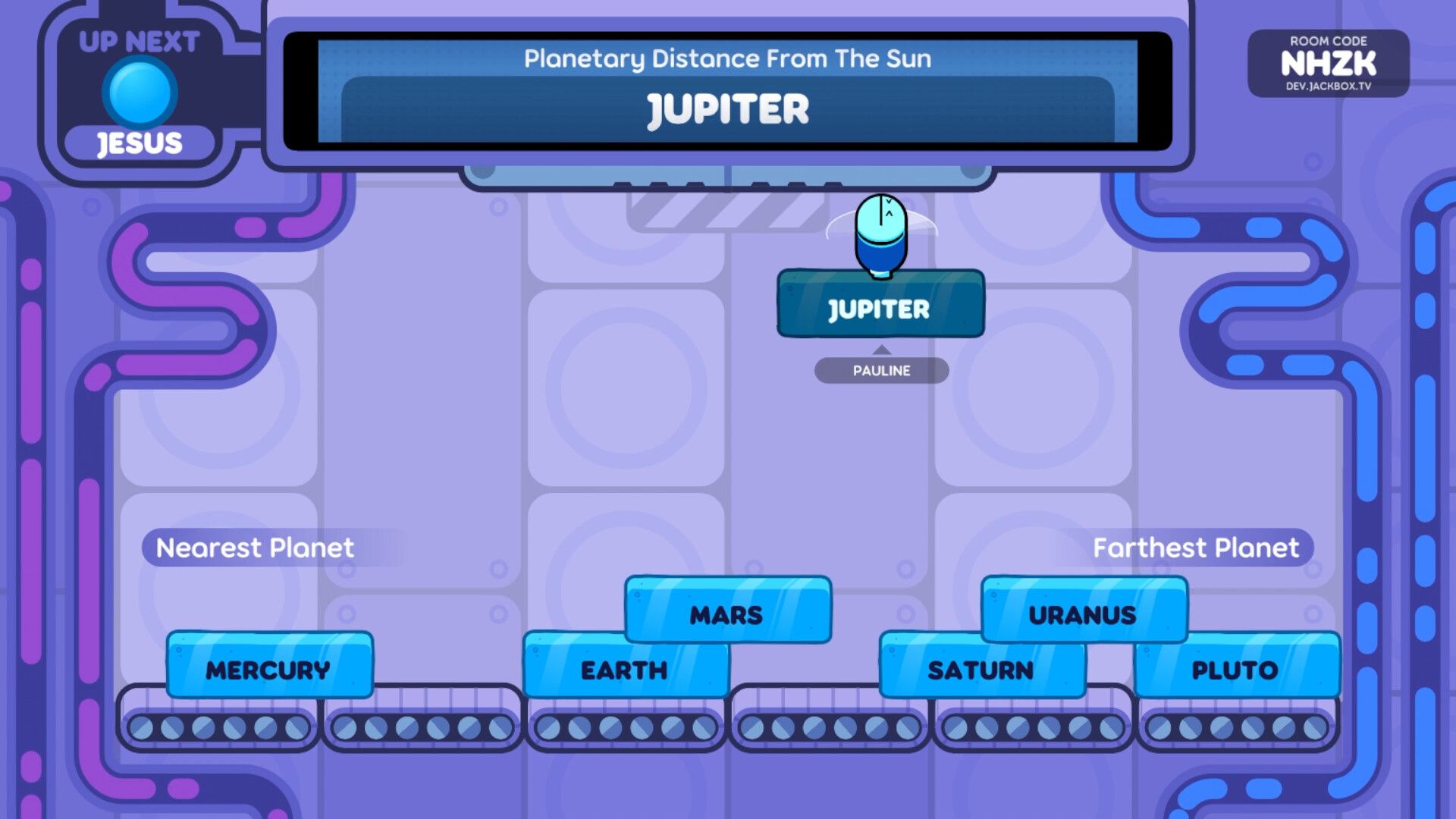 The final game of the collection is Quixort. In this action game teams of players compete by taking turns placing cubes on a platform. The idea is that players from the same team work together to sort out the correct order. Because you only have mere seconds before your answer is permanent and depending on how (un)conveniently the blocks are placed you might have an even harder time getting to the right spot, it's an exciting game. We found this game very variable, mainly because of the diversity of questions. One team was given a relatively general question about the order of the human digestive system, which the average person has some knowledge of, while the other team had to sort out how to apologize to a cat according to a website. It is also unfortunate that the non-playing team has to watch and can't do anything, because that can easily take five to ten minutes with eight players. Especially at the last task, because then you get to place your cubes twice.
All in all, this ninth collection of party games is a fun addition to your collection, especially if you like the Jackbox games. Jackbox Party Pack 9 manages to create a fun evening with a few gamesëThis game is fun to play, although we wouldn't start certain games anytime soon, as there are plenty of other games that are more fun now. Still, they remain fun to do and never take too long either so if there's something in between that you don't like as much, you can quickly move on to something else.
Jackbox Party Pack 9 was played on PC for this review, the game is also available for PlayStation 4/5, Xbox One/Series X|S and Nintendo Switch.