Nacon RIG 800 Pro HD
Nacon has announced some new gaming headsets, including the Nacon RIG 800 Pro HD. This is a wireless headset and is designed for PC use. The RIG 800 Pro HX is a model for the Xbox and the HS is developed for the PlayStation. We tested the HD version and you can read what we thought in this review.
Upon unpacking, we find a few components including a sturdy base station in which to place the headset. This is very convenient because now you don't have to put your headset anywhere on your desk with a cable attached when it is empty. It also looks a bit neater and more luxurious. On the front is also in See at a glance if the battery is still charging or if it is full. The headset makes a wireless connection via a USB stick, which is placed in the drive. The station in turn connects to the computer and will connect from there and provide power to charge the headset. By the way, it is a pity that the included USB cable is rather short, making it almost impossible to place the station on your desk and connect it to the PC that might be somewhere on the floor.
When we first grab the headset, we immediately notice how light the weight is unlike almost any other model. The 800 Pro series is made entirely of plastic, which contributes to its light weight, but unfortunately feels a bit cheaper in the process. Despite this, it all seems to be quite solid, but with some careful pulling and twisting you can hear that it is plastic. Another thing to note is that the RIG 800 Pro HD has an automatically adjustable headband. At least there are two headbands, one of which adjusts automatically to your head. The other headband is mainly for strength and to keep everything in place. By the way, you still have the option to choose various sizes. This works a little differently on the RIG 800 than on most other headsets. This allows you to disconnect the earpiece from the frame and put it back into another hole to make it bigger or smaller.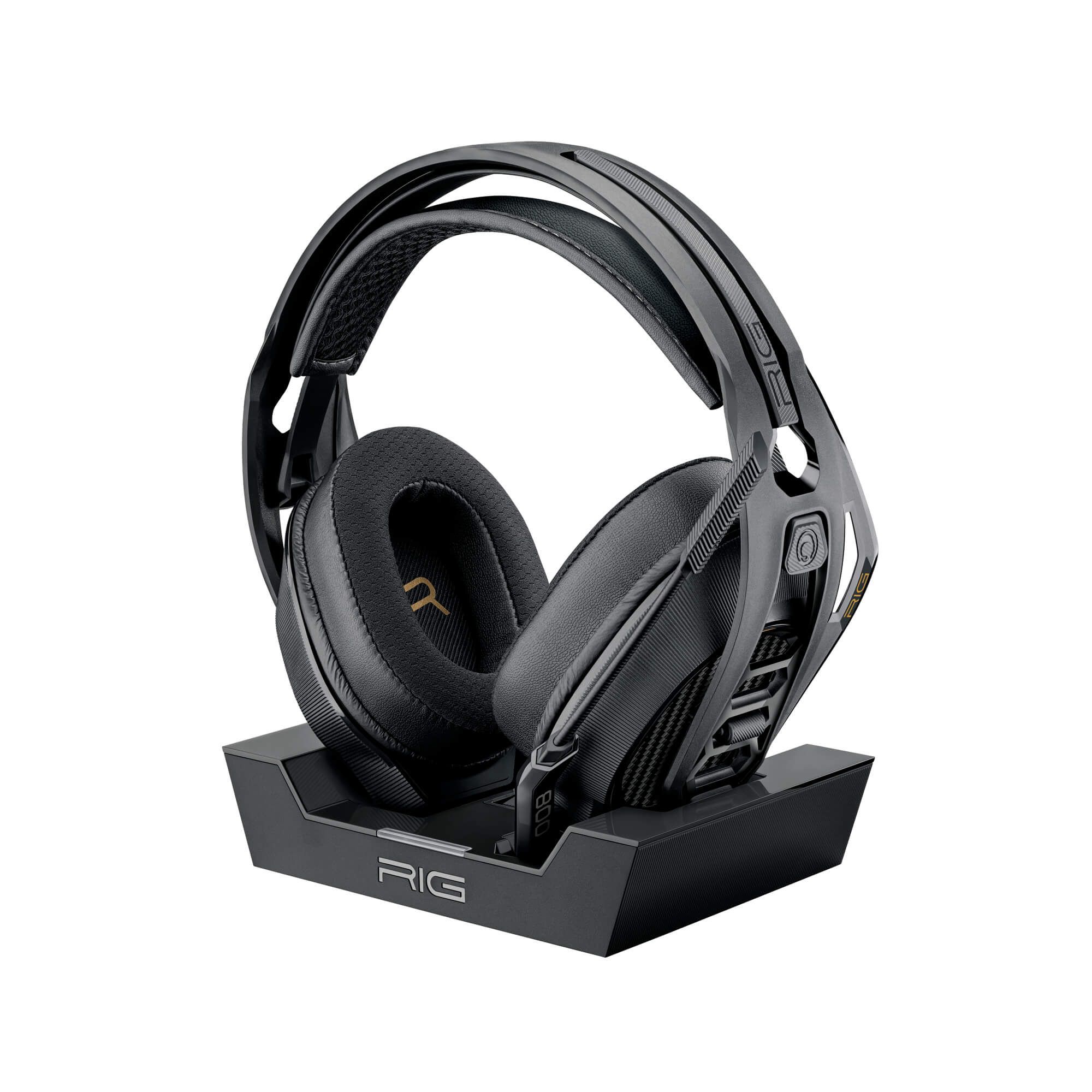 Various adjustment options provide more than enough options to make the headset fit just about anyone. This is partly due to the automatically adjustable elastic headband that ensures it always rests properly on your head. This in combination with the light weight makes sure you hardly notice you are wearing a headset. We find this very nice, especially for longer gaming sessions. The ear cups are quite large and fall completely over the ears. The outer edge of the ear cushions are faux leather for a more luxurious look, but the inside is made of breathable fabric so you are less likely to get sweat around the ears.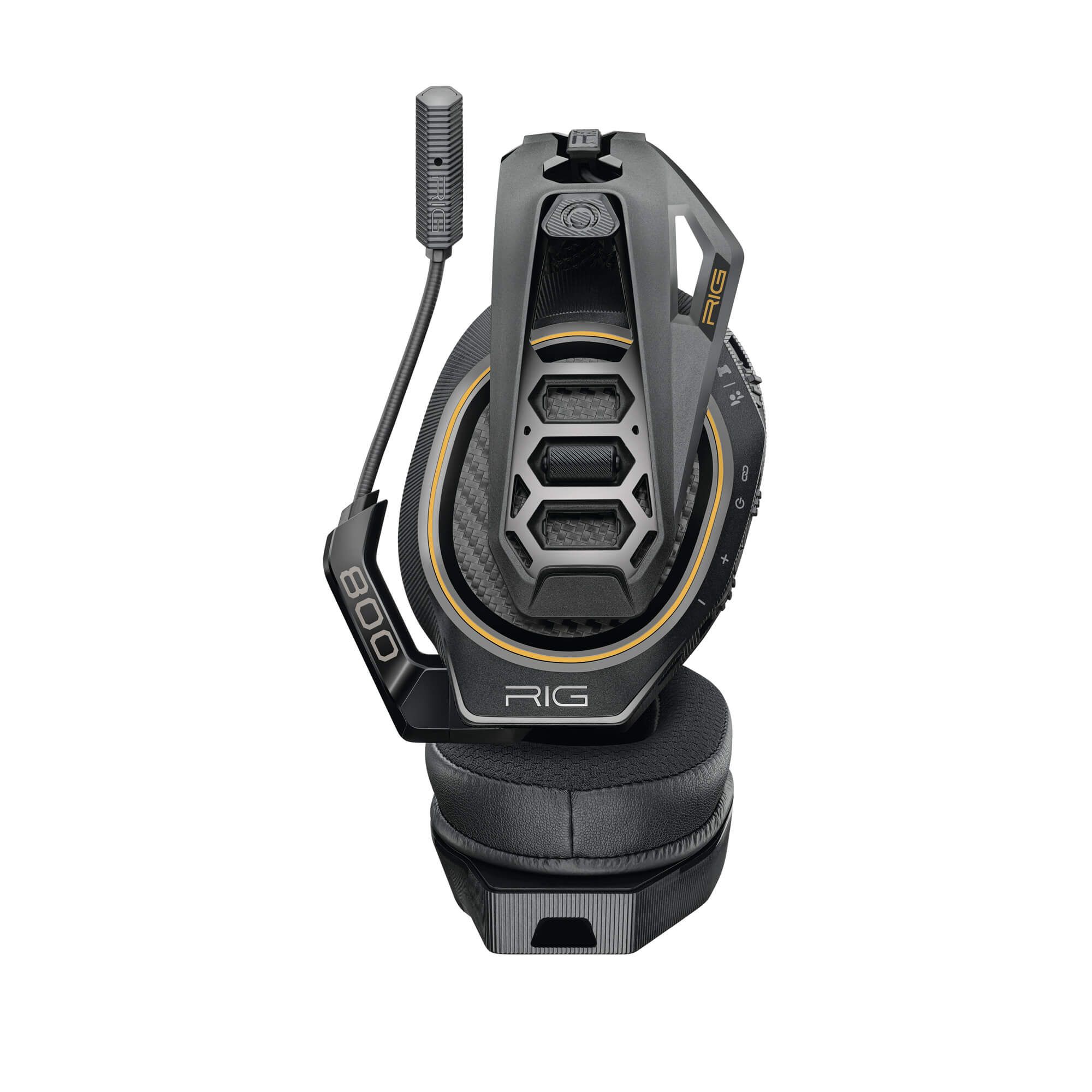 When it comes to audio, the Nacon RIG 800 Pro HD is good. The 40mm drivers produce clear sound for various purposes, such as listening to music in addition to gaming. The Dolby Atmos 3D Sound ensures that you hear everything clearly and perceive it at various positions. This is ideal in games allowing you to position the enemy well. The bass is good, but not excessive, and certainly does not dominate. It does not affect the mid and high tones eitherïThis ensures a good balance.
The relatively long and flexible microphone provides crisp clear speech. A dial on the left ear cup allows you to adjust the microphone volume so you always come in loud and clear in party chat. There is unfortunately no way to physically disconnect the microphone from the headset. Now that's not necessarily necessary either, but we can imagine there are users who would like to do this when they don't use the microphone much, if at all.
If we add everything up, we arrive at a more than fine headset for a relatively reasonable price. The recommended retail price is at €199, which is still a lot of money for a gaming headset. Nonetheless, this is an average price if we look within this segment. The only downside, in our opinion, is the build quality. The plastic feels and looks a bit cheap and also seems to lack some extra sturdiness, but generally you won't suffer much from this with normal use. In addition, the sound quality and convenient charging cradle provide additional pluses for this gaming headset.